ExxonMobil announced a major oil discovery approximately 120 miles offshore Guyana in May 2015.
The Liza-1 well encountered more than 295 feet (90m) of high-quality oil-bearing sandstone reservoirs, after being drilled to 17,285 feet (5,433m) in 5,719 feet (1,743m) of water. The well was the first on the 6.6 million acre Stabroek Block.
The licensee interests are held by three parties:
45% Esso Exploration and Production Guyana;
30% Hess Guyana Exploration; and
25% CNOOC Nexen Petroleum Guyana.
ExxonMobil contracted the drillship Stena Carron for its drilling campaign offshore Guyana, commencing in early 2016 until Q1 2017, to execute the drilling of four wells. There is a strong possibility of a 2 rig program in 2017.
The first phase of the Liza field development is anticipated to be multiple subsea wells tied back to an FPSO, up to 16 wells in total, including both producing and injection wells.
On June 26th 2016 it was announced that Exxon had completed an additional appraisal well, Liza Two. The new well is said to be just as promising as the first one, Liza One upgrading the potential yield to 1.4 billion BOE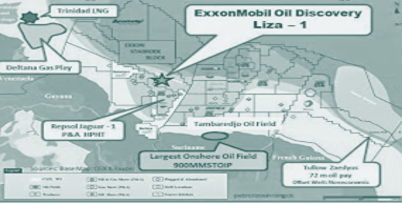 The Liza development was one of six major oil & gas discoveries globally in 2015.
ExxonMobil is moving quickly to spud further appraisal wells in order to fast-track the development and achieve production as soon as possible. The Liza Development is a priority project for ExxonMobil.
Recent commentary from ExxonMobil on the development in both earnings calls and investor presentations have highlighted the project's importance.
This commentary has been echoed by fellow licence interest holder Hess Corporation, with COO Greg Hill making positive statements on conference calls with investors. Hess has already allocated US $70 million in 2016 to look at field development options in Liza and has openly stated that the development may run as a two-rig program by 2017 in order to maximize the potential.
Additional exploration activities are being carried out by a number of large E&P companies.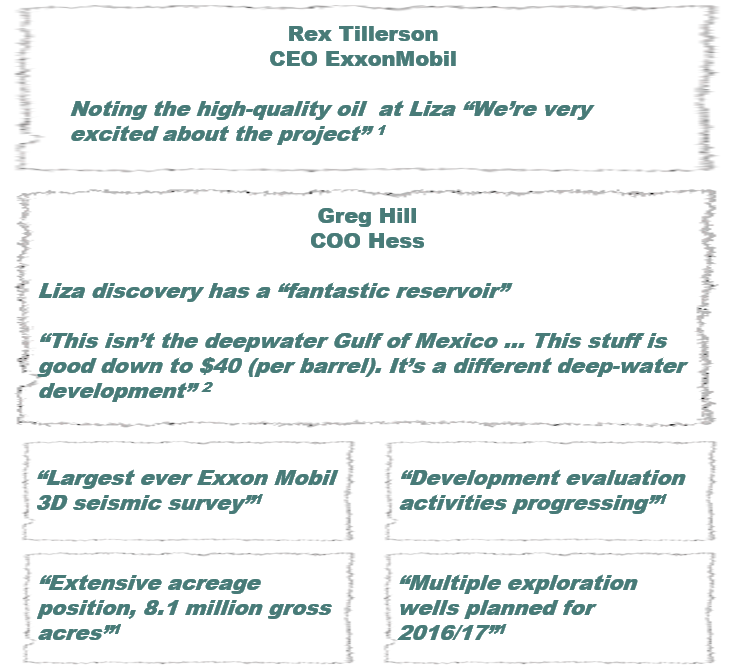 1 Source: ExxonMobil 2016 Analyst Meeting, March 2 2016
2 Source: Hess Corporation Conference Call,when discussing possibility of a second offshore drilling rig for Liza